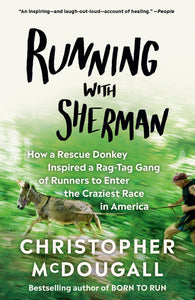 Running with Sherman
Christopher McDougall
Regular price $24.00 Sale
HOW A RESCUE DONKEY INSPIRED A RAG-TAG GANG OF RUNNERS TO ENTER THE CRAZIEST RACE IN AMERICA
"A delight, full of heart and hijinks and humour." –John Grogan, author of Marley & Me: Life and Love with the World's Worst Dog

From the best-selling author of Born to Run, a heartwarming story about training a rescue donkey to run one of the most challenging races in America, and, in the process, discovering the life-changing power of the human-animal connection.

When Christopher McDougall decided to adopt a donkey in dire straits, he had no idea what he was getting himself into. But with the help of his neighbors, Chris came up with a crazy idea. Burro racing, a unique type of competition in which humans and donkeys run side by side over mountains and through streams, would be exactly the challenge Sherman and Chris needed. In the course of Sherman's training, Chris would enlist Amish running clubs, high-spirited goats, the service animal community, and two Sarah Palin–loving long-distance female truckers. Sherman's heartwarming story of overcoming all odds to run one of the most unbelievable races in America shows the healing power of movement and the strength of the human-animal connection.